BOOK SALE
Each year, Roanoke Valley Branch of AAUW supports the education of women and girls in the community by providing $1000 and $1500 scholarships to a qualified accredited college.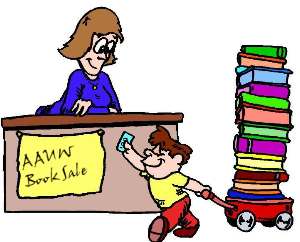 Our bi-annual book sale produces the funds for these scholarships. The members spent countless hours collecting and sorting books for this sale, and it takes a small army of volunteers to help on the day of the book sale.
Support the Book Sale
This is your chance to get some great books at low prices. Shop our many gently used books. Thousands of hardbacks, paperbacks, videos and DVDs will be available at deeply discounted prices.
Book Donations Welcome
We are accepting donations of books, videos, etc. for the next book sale, to be held at Tanglewood Mall. Your help is vital to the success of our sale and the ability for Roanoke Valley AAUW to award meaningful scholarships.
Please contact Book Sale chair Peggy Shifflett at pshiffle@radford.edu or call 540-580-6330 to coordinate and ensure someone will be at the mall space at your designated time.

For new books, support your branch with Amazon.com

AAUW Roanoke Valley Branch is a participant in the Amazon Services LLC Associates Program, an affiliate advertising program designed to provide a means for sites to earn advertising fees by advertising and linking to amazon.com.
By purchasing your books through this site you will be supporting the efforts of our branch to provide scholarships for women and girls in the Roanoke Valley.

Shop Online? Do it through iGive.com and help our branch!

If you shop online, you can painlessly, and at no cost to you, donate to AAUW. Just register yourself with iGive.com and install the iGive.com toolbar in your browser, select the Roanoke Valley branch of AAUW as your selected cause, and proceeds of a portion of the sales from some of the major online retailers will be distributed to our branch.
Supporters of iGive.com include Amazon.com, Barnes & Noble Booksellers, JC Penneys, ToysRUs, Macy's, Kohl's, QVC, Lowe's, Bed Bath & Beyond, Sears, Expedia, Orbitz. If you routinely shop at any of these stores, install the toolbar and give to our branch!