2013 | MAY 4: AAUW Funds / Membership Brunch
Our final meeting for the 2012-2013 year was in the Community Room at Tanglewood Mall, sponsored by Membership and AAUW Funds committees.
The meeting included information about AAUW Funds, meeting new members, and a memoriam for Betty Price and Millie Willis followed by a musical interlude by Betsy Biesenbach. We honored our new fifty year members, and a celebrated our named gift recipients. The morning ended with a drawing for a free National AAUW membership for 2013-2014 (congratulations Vickie Price) and refreshments.

2013 | APRIL 6: Scholarships
Each year, the Roanoke Valley Branch awards scholarships to high school seniors and non-traditional women scholarship recipients. Click here to see this year's recipients.

2013 | MARCH 23: International Program: Half The Sky

The topic at the International Program was "Half the Sky: Turning Oppression into Opportunity for Women Worldwide" based on the book by Nicholas Kristoff and Sheryl WuDunn. Break-out session surrounded the topics of Maternal Mortality, Gender-Based Violence, Sex Trafficking and Forced Prostitution, and Economic Empowerment. At the end of the session the participants felt moved to take action and make impromptu donations. Click here for details.

2013 | MARCH 2: STEM Conference
On March 2, 2013 AAUW Roanoke Valley Branch members attended the second annual STEM Conference at William Fleming High School. Middle School girls learned more about the fields of Science, Technology, Engineering and Mathematics (STEM). Coordinator: Dr. Marcia Shelton

2013 | JANUARY 5: Public Policy
Our January program on public policy – by the women for the women vote for 2013 – featured a guest speaker, Freeda Cathcart, a former candidate for the House of Delegates. Freeda presented progress that women have made and the work that still needs to be done. She shared with us a lot of "firsts", from the 1700s all the way through to today. Her talk was quite enlightening. During the close, she presented information on how to reactivate a League of Women Voters chapter in the Roanoke Valley. The meeting was open for group participation.

Educational exclusion and the resilience of Iran's Baha'i community
The Universal Declaration of Human Rights (UDHR), of which Iran is a signatory, clearly defines education as a fundamental human right; it also establishes the right to freedom of religion. Since the 1979 Iranian Revolution, more than 10,000 Baha'is, Iran's largest non-Muslim religious minority, have been expelled from government and university jobs, thousands have been arrested, and an estimated 200 Baha'i leaders have been killed. Moreover, Bahá'í youth have not been allowed to attend any of Iran's universities. In 1987, the Iranian Bahá'í community started an informal university, a hybrid model of education which has evolved into the Bahá'í Institute for Higher Education (BIHE). Classes are taught quietly in homes across Iran by Bahá'í academics who have themselves been barred from teaching professionally as a result of their religious beliefs.
In May 2011, the Iranian government launched a coordinated attack against the BIHE – raiding dozens of homes, confiscating computers and materials and detaining eighteen professors and administrators. Seven of those arrested received four or five-year prison terms; their 'crime' was educating the youth in their community. Nonetheless, graduates of the Institute have been embraced by 75 high-ranking institutions across the globe including Harvard University, Stanford University, the School of Oriental and African Studies, and City University, London.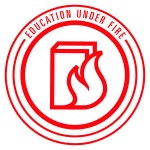 Two accessible resources on this human rights situation are:
Education Under Fire, a 30-minute documentary film released in October 2011 by US-based Single Arrow Productions and co-presented by Amnesty International;
'Knowledge as Resistance: The Baha'i Institute for Higher Education', a February 2013 research report released by the UK-based Small Media, an action lab with training, technology, and research initiatives that focus on Iran. You can read or download the full 58-page report from their website: http://smallmedia.org.uk/knowledge.pdf
---
If you are interested in viewing the 30-minute documentary, or participating in a small-group discussion of the report or the film, please contact Barbara Craig, International Relations Chair, bac2010@verizon.net or 989-1379. I will be happy to host one or more small-group discussions in my home in late spring or summer at members' convenience.