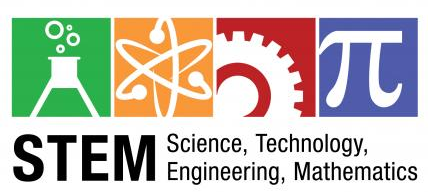 The 2012 STEM day-long seminar for high school girls was held on
Saturday, March 3 from 8:30 AM until 3:00 PM.
There were twenty-two of the twenty-five registered participants in attendance, representing the school districts of Roanoke City, Roanoke County, Craig County, Botetourt County, and Salem City. The event was held at Roanoke City's William Fleming High School and in collaboration with the Office of Teaching and Learning with the Roanoke City Public Schools.
Program
After a light breakfast snack, distribution of STEM T-shirts, and ice-breaker activities following registration, the events of the day included

an opening session via interactive SKYPE with Katherine Grichnik, M.D., of the Duke University Medical Center ("Girl Power: Life, Liberty, and the Joy of Research");
hands-on problem-solving with Stephanie Salisbury, MS of the Virginia Institute of Marine Science ("Boom or Bust? Cleaning Up Environmental Oil Spills and a Look into Careers in Marine Science');
hands-on learning with Diana Willeman-Buckelew, MS, MSPH of the Jefferson College of Health Sciences ("Forensic Science: Solving Crimes with Science");
a conversation with Kathy Cox of Roanoke City Office of Technology ("Technology as a STEM Career Choice");
Sarah Baumgartner, BS, of the Western Virginia Water Authority ("Putting Science and Technology Together to Work to Treat Drinking Water"); and,
Susheela Shanta, B.E., M.U.P. – Director/Faculty Center of Engineering – BCAT/RCPS ("Engineering Mechanics – Statics in Everyday Use: How Spindly Tower Cranes Handle Large Loads").
The day closed with the presentation of certificates of attendance, at which several parents had gathered to witness. Participants generally expressed appreciation and enthusiasm for the day as they departed, and parents were very supportive and complimentary.
Click here for the full report of the 2012 STEM event