Second Annual STEM Summit a Success
Coordinator: Dr. Marcia Shelton
On March 2, 2013 AAUW Roanoke Valley Branch members attended the second annual STEM Conference at William Fleming High School.  Middle School girls learned more about the fields of Science, Technology, Engineering and Mathematics (STEM).
Seventeen girls from Roanoke City Schools and Roanoke County Schools attended.  Again this year, Katherine Grichnik,M.D.,of the Duke Medical Center, was live with us via skype with "The Joy of Medical Research"; Stephanie Salisbury of the Virginia Institute of Marine Science brought a hands-on, problem-solving investigation for marine species invasions due to ballast water from foreign ships; and, Toni McLawhorn of Roanoke College provided participants with numerous websites for career, college, and financial aid resources.
Everyone enjoyed a pizza lunch that was preceded by a light breakfast.
The STEM committee members, Pat Hales, Clare Newman, Melody Blankenship, and Marcia Shelton wish to extend sincere appreciation to all Branch who helped behind the scenes or were volunteers on location for the day.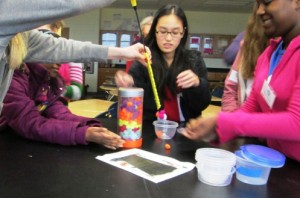 Hands on experience for Middle School girls interesting Science, Technology,
Engineering and Math
---
Left: HelenRuth Burch leads the girls in some floor exercises while they wait for lunch to arrive.