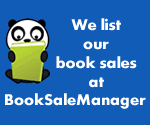 August 24-26, 2018
Tanglewood Mall
4420 Electric Rd
Roanoke, VA 24018
Friday 10 a.m. – 9 p.m.
Saturday 10 a.m. – 9 p.m.
Sunday 1 p.m. – 6 p.m.
Roanoke Valley Branch of AAUW Facebook Page
For more information e-mail rvaauw@gmail.com
Our branch holds two book sales annually. The main one is in September, the weekend following Labor Day. The second one takes place in February, to coincide with the Tanglewood Mall family friendly event.
Most of our members are involved in the sales in one way or another. We start collecting books as soon as each book sale ends. We sort them, classify them and arrange them in our space at Tanglewood Mall (on the second level, opposite Belk's).
During the sale we keep the books tidy for our customers. We help them with check out, bagging and we have a great time interacting with all the people who love books as much as we do. The money we make goes to fund scholarships that we award not only to high school girls, but women who have decided to return to college for their degrees. We also support our parent organization, AAUW, for their graduate school fellowships for women. We are proud of our work to provide educational opportunities for women and girls because we know how positively and how deeply this affects society in general.
Video from Past Used Book Sales