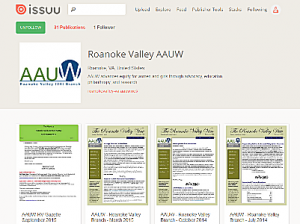 In order to make publishing newsletters easier for the communications folks, we created a profile on ISSUU, which will allow you to view your newsletter on your computer without needing special software.
The link for our ISSUU site is
http://issuu.com/rv-aauw

Once you're on the site, you will see the issues of the AAUW-RV Gazette as well as past issues of The Roanoke Valley View. To view an issue, click on the image or the title of the newsletter.
You will see the screen below: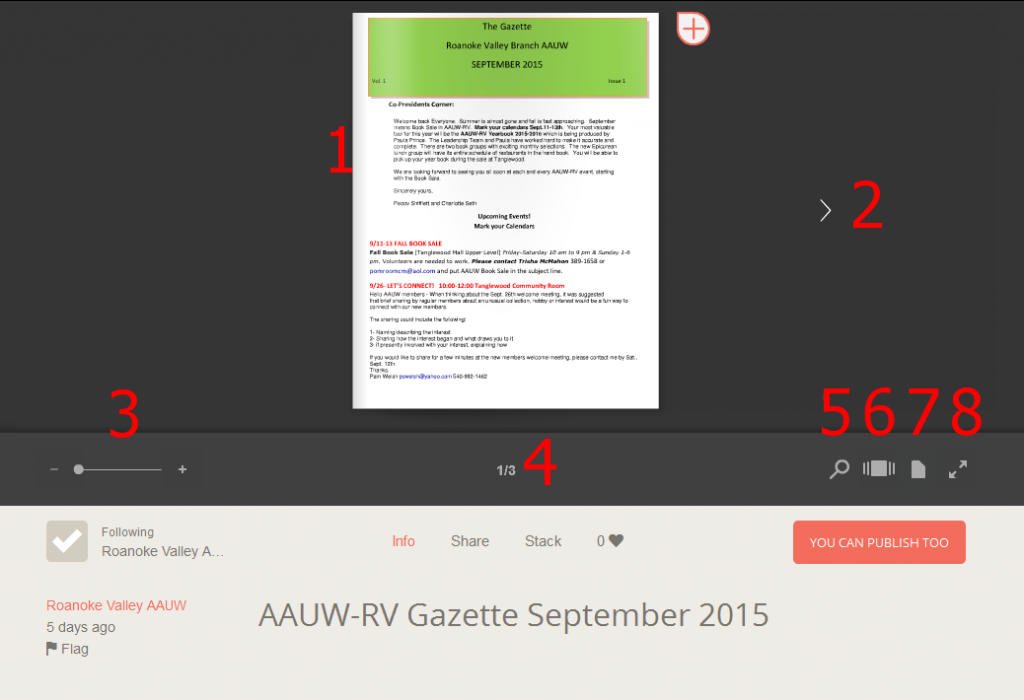 the current page of the newsletter
the navigation button to move to the next page
a zoom slider that will let you magnify the page to make reading more comfortable
the current page number and the total number of pages in the newsletter
a search feature (this sometimes doesn't work as well as it should)
see thumbnails of all the pages so you can scroll to the page that you want. This button is active when the full page is in the view, and deactivates when you zoom in.
sets the view to one page only (the newsletter defaults to two page spread)
opens the newsletter to full screen size. Press Esc on your keyboard, or hit the button again to bring it back to smaller size.
By clicking Share, you can email the newsletter to a friend or share the newsletter on your Facebook, Pinterest or Twitter account.
Some additional features you will get if you become an ISSUU member:
follow Roanoke Valley AAUW and be updated when a new issue is published
read the newsletter on your mobile device after you download the ISSUU app
download the newsletter in PDF format

to access the download screen, click the Share button (make sure you select "from first page" as your option

show us (and others) that you like the newsletter by clicking the heart icon
read other magazines and create "stacks" or categories to make them easier to find later