Coordinator: Gloria Elliott (384-0428)
Our Theater Group attends local performing arts events, primarily those presented by Roanoke College, Hollins University, Showtimers, The Attic, and MMT. Contact the coordinator for details.
Past Events
September 13 2016: The Two Gentlemen of Verona
Presented by: American Shakespeare Center's Dangerous Dreams Traveling Troupe
The 2016/17 Hungry Hearts Tour is traveling with a special, additional purpose:
helping shelter dogs find their "Forever Home". Presenters of The Two Gentleman
of Verona will secure a local shelter dog to play the role of Crab. After the show,
audience members will be encouraged to apply to adopt the dog or one of his/her
friends from the shelter.
"When long-distance love tangles the heartstrings of the play's title characters, it
takes two clever women, a pair of devoted servants, and a dog to make things
right."
www.americanshakespearecenter.com
January 20 2016: The Importance of Being Earnest
Presented by: American Shakespeare Center's Dangerous Dreams Traveling Troupe
Tickets are usually $10-12 – buying information to follow
Pre-show dinner TBA – contact Gloria for more information
SEPTEMBER 15, 2014: MUCH ADO ABOUT NOTHING
American Shakespeare Center's Traveling Troupe Returns to Hollins University.
While the villainous Don John devises a scheme to shatter the nuptials of Claudio and Hero, the young lovers conspire to trick Beatrice and Benedict into admitting their much-denied love. In this powerful comedy full of sparkling wit, Shakespeare gives us the joy of love won and the ache of love lost. He makes us laugh and breaks our hearts, then magically puts them back together again.
NOVEMBER 8, 2013: MITZI'S ABORTION
With humor, honesty, and warmth, a cast of outspoken and colorful characters accompany Mitzi on her journey through the complex emotional landscape of late‐term abortion. When she hears the words "fatal fetal anomaly," Mitzi discovers that nothing is black and white, and everything feels important as she navigates her way through the church, insurance laws, the politics of friends and family, and her own heart. Mitzi's Abortion is a generous and compassionate comedy with serious themes about a young woman trying to make an intensely personal decision in a system determined to make it a political one.
JANUARY 15, 2013: LOVE'S LABOUR'S LOST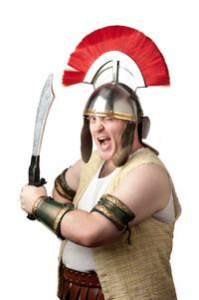 From Blackfriars Playhouse in Staunton, Va., the American Shakespeare Center On Tour brings "Love's Labour's Lost."
In this performance, the King of Navarre and his three schoolmates are ripe for an education in love from the Princess of France and her three ladies. Joining the lovers is a brilliantly goofy troupe of clowns, including the love-warrior, Don Armado, and the lust-sick rogue, Costard, who ardently pursue the affections of a winsome country maid — and who perform an unforgettable pageant for the royals.
This giddy and extravagant romantic comedy is Shakespeare's most exuberant word fest — a joyful carnival of love, loss and hope.

NOVEMBER, 2012: 25TH ANNUAL PUTNAM COUNTY SPELLING BEE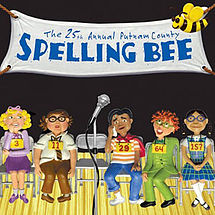 Can you spell F-U-N-N-Y?
Theatre Roanoke College will present the 25th Annual Putnam County Spelling Bee. This hip musical by a Tony Award winning creative team chronicles six young people who learn that winning is not everything and losing does not make you a loser. Get out your dictionaries because some audience members will be joining the cast onstage.

APRIL 15, 2012: GOOD OL' GIRLS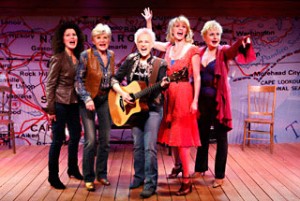 The Off Broadway Musical, Written and adapted by Paul Ferguson from stories by Lee Smith and Jill McCorkle, with songs by Matraca Berg and Marshall Chapman, conceived by Matraca Berg.
Two of Hollins most celebrated writers join two of Nashville's leading singer/songwriters to redefine the modern Southern woman in a musical about love, loss and laughter. GOOD OL' GIRLS celebrates childhood through old age with big hair and bigger hearts. Fabulous stories. Great music. There's a Good Ol' Girl in all of us. Let yours out.

APRIL 17, 2011: NINE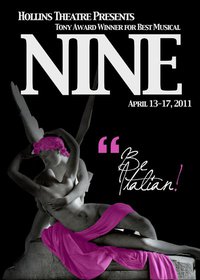 Inspired by Federico Fellini's 1960's cinematic masterpiece, 8 & ½, NINE sweeps you into the glamour of "cinema Italiano," while capturing all the exciting ingredients of a great Broadway musical! Travel through the imagination of genius filmmaker, Guido Contini with twenty women who find him exasperating, annoying and utterly irresistible.
"A rich and thrilling night of theatre." ~The New York Post
Other plays and outings with the Roanoke Valley Branch of AAUW:
Chicago
Christmas Belles
Violet
Dead Man's Cell Phone
those crazy ladies in the house on the corner
Nickel and Dimed
The Curious Savage
MM Theatre B Norfolk Southern Festival of New Plays
camp bethel storytelling festival
Sister Helen Prejean on Dead Man Walking
National Storytelling Festival